find hidden bunker fortnite when they say "hidden", they mean it. It is incredibly unlikely that you are going to find one of these things on your own. This is one of the new challenges this week here in Fortnite, where we've got to head all over the island seeking these little metal entrances that have been part of the island's mythos for a good long while now, though they only pop up in challenges every once in a while. As far as object hunts go.
this one is particularly tricky. You've only got to visit one, however, so it shouldn't be too bad. Let's go to the map, guide and location for where to visit a hidden bunker in Fortnite.
First, the map: this will only do you so much good, because these things are hidden, but pick one of these locations and head over to it:
Fortnite Credit: Epic Games
You're going to need some more information, however. Whenever you discover one of these, it will become a landmark, but marked only as "???".
Location 1
Hidden Bunker location 1: The first of three Hidden Bunkers on the Season 5 map is located here, in the ocean northwest of Slurpy Swamp.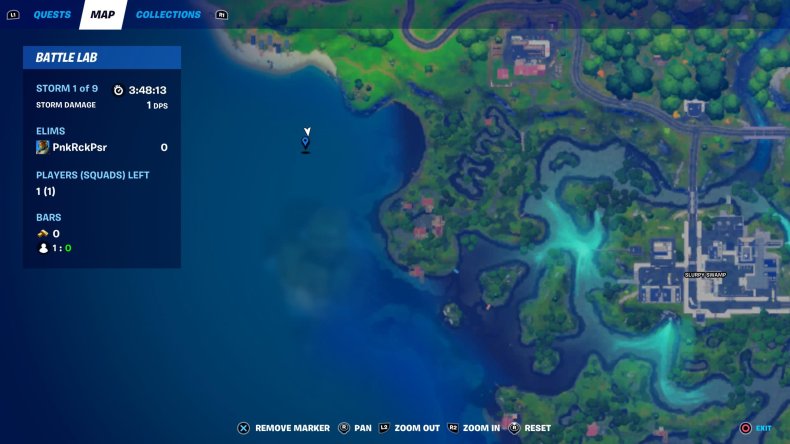 The exact spot is a little difficult to pinpoint, but you'll find it just off the shoreline. It's surrounded by coral, so use the patches of coral to guide you to the right place. This first location is the most difficult to showcase purely from a map, so don't forget that you can always try Bunker location 2 or location 3 if this one stumps you.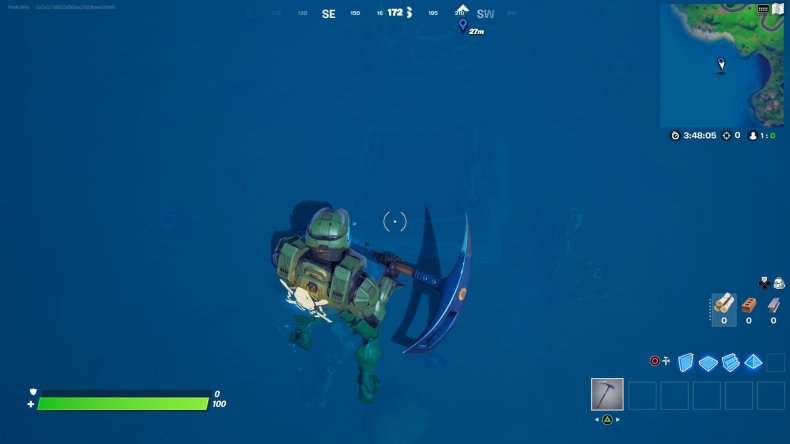 Location 2
Hidden Bunker location 2: The second Hidden Bunker location is found on the island between Craggy Cliffs and Stealthy Stronghold.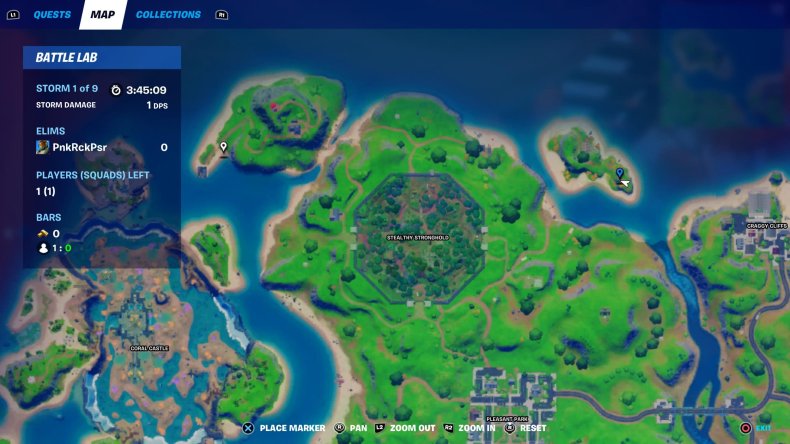 You'll see a raised beach house with a deck on the back. Directly under the deck you'll find a wall of stone that you can destroy with your Pickaxe. Once it breaks open, you'll see this Hidden Bunker.
Location 3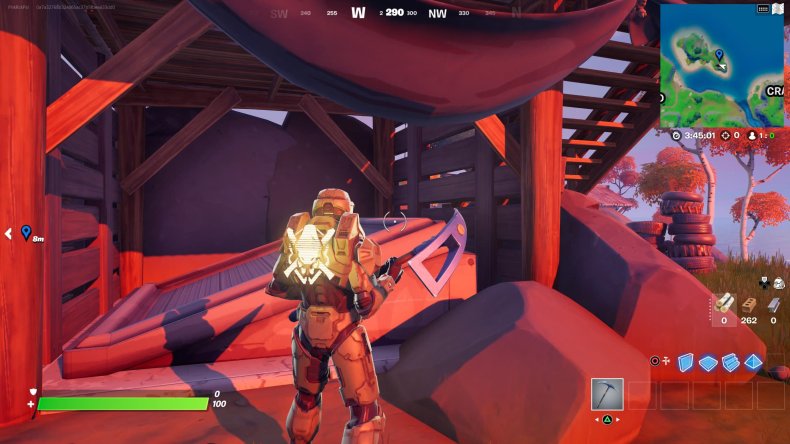 Hidden Bunker location 3: The third and final Hidden Bunker can be found on this cliff edge east of Retail Row.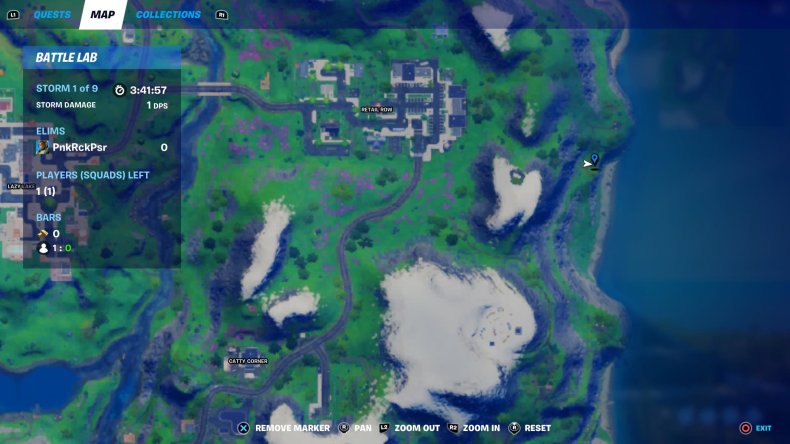 Among the sea of pine trees there's a large bush situated next to a stone. Hit that bush with your Pickaxe to reveal the last Hidden Bunker. Simply visit one of these three spots and you should be good to go.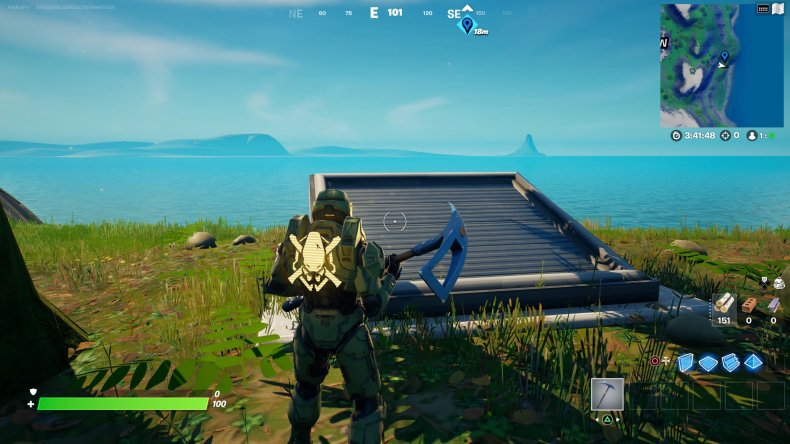 Fortnite Week 9 Challenges
Finding Hidden Bunkers is just one of the new challenges going live in Fortnite on Thursday. Here's the full list of Week 9 Challenges as seen via the in-game quest log:
Shakedown an IO Guard
Find a Hidden Bunker???
Find the Crashed Plane's Black Box
Deal damage while in water (200)
Emote at Stone Statues
Ride the Steamy Stacks
Deal damage to a Loot Shark (500)
Shakedown Opponents (5) (10) (15) (20) (25) [Legendary Quest]
That's all you need to know about the Hidden Bunker Week 9 Challenge in Fortnite.
Another way
South of Holly Hedges: This one is in the damn ocean. It's pretty hard to see, mostly because you can't actually swim underwater in this game. But even if you do the thing where you dive in and out, it's pretty hard to get a bead on it: you only need to visit the water directly above the bunker to make this count, but even so. 2/10, would not visit again.
The Little Island by Craggy Cliff: This one is probably the one I'd recommend, for sheer simplicity's sake. It's right there on the Eastern side of that little island, which is mostly easy to grok. That's where you'll see a mostly non-descript little house with some wooden palettes and other sundry below. Whack away all that stuff to find the bunker underneath.
East of Retail Row
East of Retail Row: This one is tricky because the cliffs in this area just aren't all that navigable, especially not at the beginning of a match with more limited resources. You're looking for a campsite just a little northeast of that little snowcap there, up in the mountains near the edge of the cliff. Just down the slope from that campsite are two trees, with a big bush in the middle. Hit the bush with your pickaxe and you'll see the bunker within.
لشحن جواهر فري فاير الدخول على الرابط التالي والشرح من هنـــــــــا
استخدام موقع oonoo لشحن جواهر فري فاير من هنــــــــا